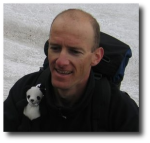 Iam an Associate Professor in Computing Science (maître de conférences en informatique) at LS2N, UMR CNRS 6004, France. This laboratory was created in January 2017 through a merging between LINA, UMR CNRS 6241 and IRCCyN, UMR CNRS 6597. I am a member of the OGRE (Optimisation Globale et Résolution Ensembliste) team.
My main areas of expertise include the design of constraint solvers for continuous problems, floating-point arithmetic, and interval arithmetic.
Since 2001, I have been the main developer behind GAOL, a C++ interval arithmetic library that offers the multivalued inverse functions required by interval constraint solvers. Since 2019, I have been the main developer for FPNGlib, a C library to draw floating-point numbers at random geared towards testers of numerical software.
From 2008 to 2015, I was a member of the Interval Standard Working Group responsible for the development of the IEEE Std 1788™-2015 Standard for Interval Arithmetic.