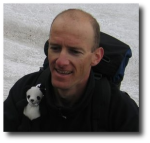 Iam an Associate Professor in Computing Science (maître de conférences en informatique) in the OGRE (Optimisation Globale et Résolution Ensembliste) team at LS2N, UMR CNRS 6004, France.
My main areas of expertise include the design of constraint solvers for continuous problems, floating-point arithmetic, and interval arithmetic.
Since 2001, I have been the main developer behind GAOL, a C++ interval arithmetic library that offers the multivalued inverse functions required by interval constraint solvers. Since 2019, I have been the main developer for FPNGlib, a C library to draw floating-point numbers at random geared towards numerical software testing. Since 2021, I have been the main developer for MicroFloatingPoints.jl, a Julia package to manipulate IEEE 754-compliant very small floating-point numbers (from 5 bits to 32 bits).
From 2008 to 2015, I was a member of the Interval Standard Working Group responsible for the development of the IEEE Std 1788™-2015 Standard for Interval Arithmetic.
I have been a First-Aider at Work (Sauveteur-Secouriste du Travail) since 2006.